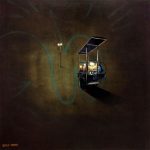 OMNIPRESENÇA – Apolo Torres
In his new Omnipresence series, Apolo Torres presents reflections on the urgency of learning how to deal with life in a society that teems with different opinions and wills. Images with multiple perspectives intend to place the viewer in an omnipresent condition, able to observe a reality with multiple points of view that overlap and need to find a way to coexist.
In images that present fragments of everyday objects and scenes, the representations are focused on aspects inherent to any human being, with special attention to the finitude of life and the need to resist it. The urgency to find a space that is yours and that allows our voices to unfold, and the constant encounters with opposites, which demand serenity and tolerance.
The works are all mixed technique paintings on canvas, with careful work on the backgrounds in order to create textures on the canvas surface that refer to the urban setting, with walls as marked by the action of time as the figures represented on it. In these backgrounds there is the use of materials typical of urban walls, such as latex paint and spray, and in the figures a traditional painting technique with oil paint.
The show also features works in the public space that are integrated with what is being presented at the gallery. There are three new murals that share the same conceptual and aesthetic research, and invite the public to tour the city and experience this important facet of the artist's production.