Next Saturday, 16/04, A7MA Galeria receives Nena Madalena's first solo exhibition, Vovó Artista. The show features a series of paintings painted by the artist Naif (when she has no academic background or specific techniques) produced after her recovery process of two strokes in 2008. To make the exhibition feasible, there is a collaborative financing campaign on the CATARSE platform, where anyone can contribute until the opening day.
The campaign also intends to create a large mural with guest artists who will reproduce her work in Vila Madalena by her artist friends, and a documentary on the life and work of the Naif Artist, Nena Madalena.
Check the campaign here!

For the production of her works, Nena uses bright colors that rescue memories in a playful universe inhabited by families, children, wheel games, cirandas, animals, rain and sun. "This is a special tribute to Nena Madalena, an artist originally Naif, who has great talent and willpower", comments the artist and A7MA partner, Enivo.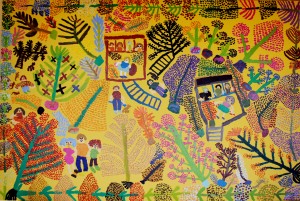 About the Artist
Born on January 28, 1948, in São José dos Campos, Madalena grew up taking care of her brothers and working in family homes, with no time or opportunity for studies. In 2008, he suffered two strokes that resulted in loss of speech and part of the body's movements. Encouraged by her grandson Marcus Vinícius Enivo in 2010, Madalena started to practice painting constantly, her only possible means of expression, discovering herself as a genuinely naive artist. In 2012 he participated in the exhibition "Coração na Mão" at A7MA Galeria. Today he has works in collections in Italy, Germany, the United States, Rio de Janeiro, Brasília and other states.