GLEO EXHIBITS "NOTHING" AT A7MA
Colombian artist Gleo exhibits "Nothing": a sensory display of inner contemplation in the gallery A7MA. The artist has a longstanding connection with the gallery but this is the first official exhibition of this talented artist here. Gleo is one of the most promising names in the Latin American urban art scene. The exhibition starts September 12th.
With the reopening of exhibition spaces and museums, Colombian artist and muralist Nathalia Gallego Sánchez, better known as Gleo, debuts at A7MA, our gallery in Vila Madalena (SP) with "Nada", an exhibition signed by curator Marina Bortoluzzi.
"NOTHING"

"Nothing" is the result of an internal dive by Gleo during his artistic residency in Brazil since the beginning of the quarantine, in March. In contact with Brazil since 2017, Gleo came to the country for the first time through a
Instagrafite's invitation to participate in the Nu Festival, where he painted a large-scale gable for the first time. Since then, the artist has a very close connection with the country, and because of this relationship with the
curator, Marina Bortoluzzi was invited to sign the new Colombian exhibition

During the quarantine in Brazil, Gleo was also virtually with Marina at WOW [Women on Walls], a free education and training program for women artists led by Instagrafite. Furthermore, as one of the program's teachers, the artist spoke about "Art and Spirituality", a theme that dialogues with this new exhibition. The artist has a meditative state in painting and it was with this tool that she faced the current moment, with its palettes and textures, listening to her inner child, turning inward, in a moment when, according to her, "let go of fear and leave of control, leaving the comfort zone and being open to the new".
Thus, the exhibition exhibits original works and silkscreen prints produced in Cali, in her hometown, and printed in Mexico City, as well as works made during her quarantine period in Brazil, reflecting what all
we end up experiencing the process of isolation. Finally, the free exhibition, which will work in person or in a 360º virtual tour, invites us to get in touch with our existence in the deepest and simplest, in what is innate (nothing) and stripped of all social masks.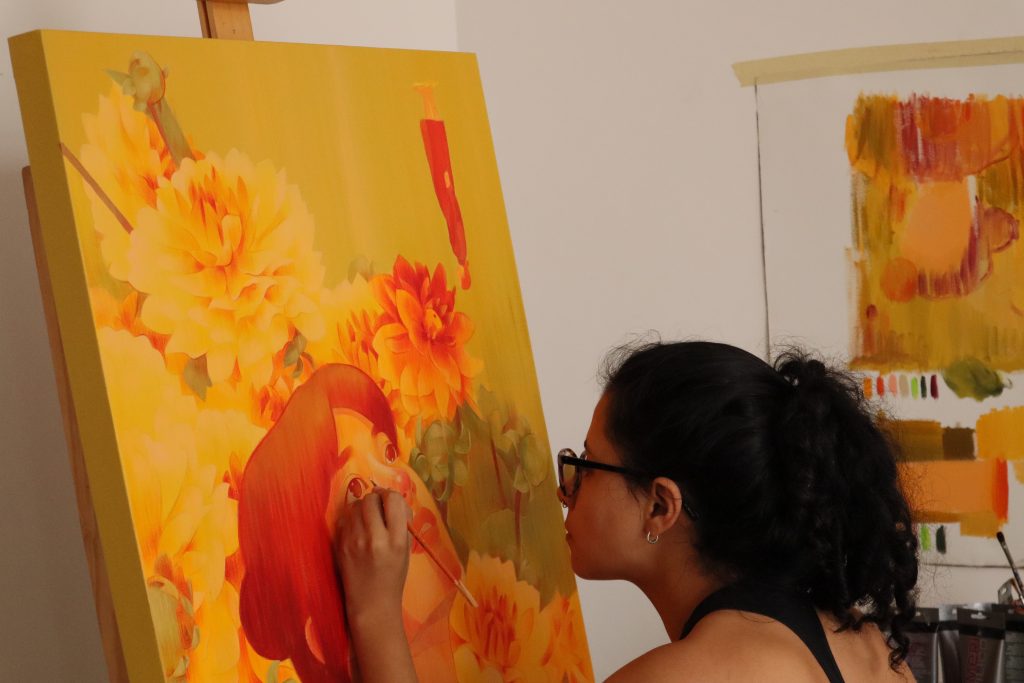 The gallery is following all WHO recommendations for pandemic control for this event. The number of people per room is being controlled depending on social distance within the space. It is preferable that the visit is scheduled in advance.
To schedule your visit:
11 23617876
DM on Instagram
a7ma@a7ma.art.br
Opening hours: 11:00 to 19:00
Curatorship: Marina Bortoluzzi @mahbortoluzzi